The Jeffrey Hotel in South Lake Tahoe
Walking distance from the Heavenly Gondola and Lakeside Beach!
Discover the Heart of South lake tahoe at The Jeffrey Hotel!
Nestled in the vibrant heart of South Lake Tahoe, The Jeffrey Hotel stands as a prime destination for those eager to explore the best of the region. Our enviable location places you just moments away from the pristine Tahoe Beaches, the Heavenly Gondola, great shows at the Tahoe Blue Events Center, and a variety of thrilling casinos.
Echoing the nostalgic charm of 1970s camping culture, The Jeffrey Hotel presents a unique and effortless stay experience. You'll find yourself conveniently located within walking distance to not only the sparkling Lake Tahoe but also an array of exciting casinos, diverse dining options, and extensive shopping venues.
At The Jeffrey Hotel, your exceptional South Lake Tahoe adventure awaits. Join us for an unforgettable experience where the splendor of Lake Tahoe's natural beauty and the excitement of local attractions come together to create the perfect getaway!
South Lake Tahoe Hotel
Contactless Modern Hospitality
The Jeffrey adheres to proper sanitizing and safety procedures set in place during the Covid Pandemic. We spare no effort in creating quality lodging for our guests and offer clean comfortable accommodations.
Learn More
Guest App – Everything you need, all in one place
Our Hotel Guest App provides hotel information and useful guides for our guests. It also offers live chat support and frequently asked questions.
‍
Our App is a great way for to provide our guests with all the information they need in one place. The App is cloud-based so guests can access it from device browser. There is no need to download!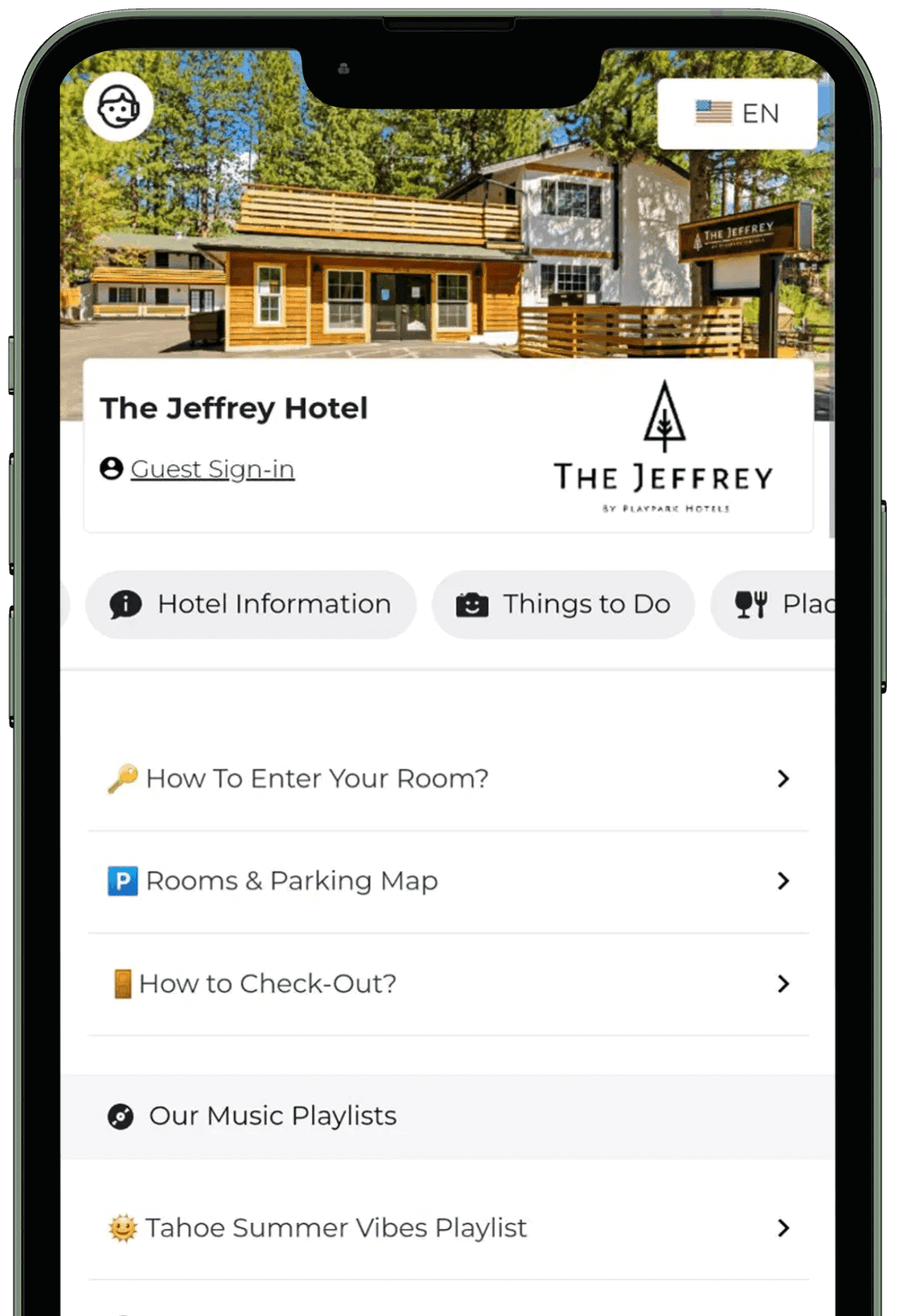 Everything Within Walking Distance
The Jeffrey is located on the South Shore of Lake Tahoe, California. Explore a plethora of activities, food, shopping, and entertainment all within walking distance. Whether you're looking to get lucky at the casinos, dine at some of the best food spots nearby or buy some really cool swag at local shops. There is a little for everyone!
What are you waiting for? Experience South Lake Tahoe Today!
Book Now!